Congratulations to Antonio Barocci and Diane Benbella for winning several awards at this years American Association of Geographers conference.
Diane Benbella won the 2nd place in the poster competition in the Geography, GIScience and Health: Spatial Aspects of Cancer, NCDs and Health Behavior section. The session was sponsored by the International Journal of Environmental Research and Pubic Health.  Her poster was titled "HIV on the road": Tracing a geospatial story of HIV transmission in Uganda's Northern Transportation Corridor.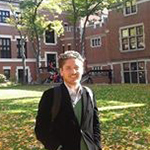 Antonio Barocci won the 2019 AAG European Specialty Group student paper competition with his paper titled Gender under Fascism: The Work of the Special Tribunal in Italy 1926-1928.
---