A group of geographers from UConn participated in the American Association of Geographers (AAG) 2023 Annual Meeting held in Denver, CO from March 23-27.  During the conference, the AAG honored geographers who received awards over the last several years.  UConn Geographers receiving awards include:
Sabina Bhandari (current PhD student) received Travel Awards from the Spatial Analysis and Modeling (SAM) and the Applied Geography Specialty Groups. This was her 1st AAG!
Aaron Adams (current PhD student) received was the AAG Council Award for Outstanding Graduate Student Papers at a Regional Meeting, NESTVAL.
Shamayeta Bhattacharya (former PhD student) received the Jacques May Best Dissertation Award from the Health and Medical Geography Specialty Group.
Andy Jolly-Ballantine (faculty member) received the 2022 AAG Harm de Blij Award for Excellence in Undergraduate Teaching.
Debs Ghosh (faculty member) will be the Chair of the National Councilors.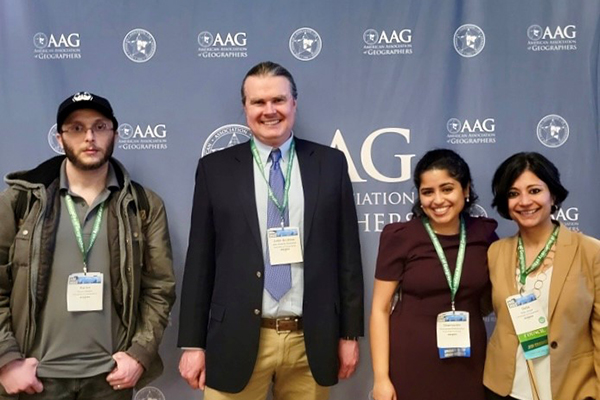 On Thursday evening of the conference, the Geography department organized a social gathering at Gattara, an Italian restaurant located in downtown Denver, which was also attended by a number of faculty, graduate students, and several UConn Geography alumni.
---