Tenure Track Job Search
The Department of Geography at the University of Connecticut (UConn), Storrs invites applications for a new tenure-track Assistant Professor position in Geography as part of a cluster hire in Environment and Human Interactions.  The University is seeking emerging scholars with interdisciplinary interests and expertise that include (but are not limited to) climate change impacts and societal responses; socio-ecological systems modeling; natural hazards and disasters; food, energy, and water (FEW); environmental policy; environmental health; political ecology; and environmental justice.
Visit https://academicjobsonline.org/ajo/jobs/19572 for more information.
Cases of COVID-19 Reported in Connecticut by Town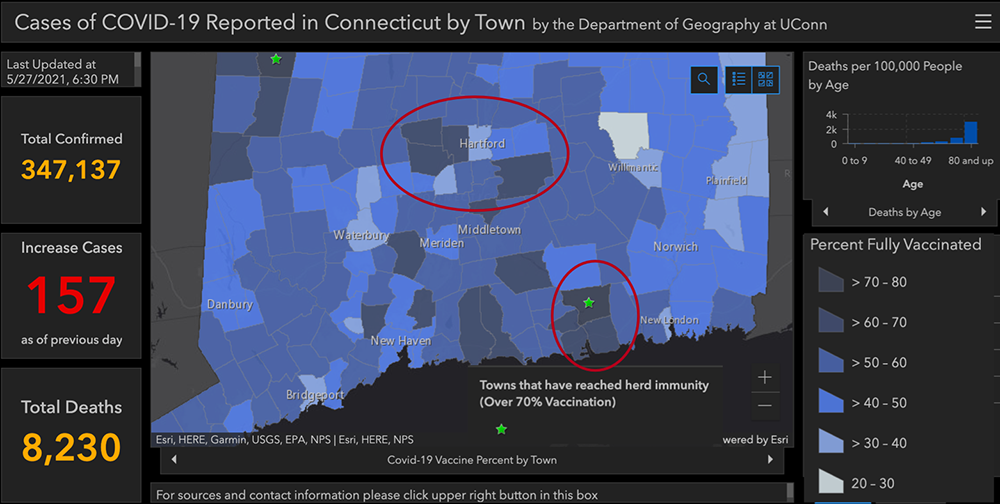 Student Opportunities & Resources
Geography Curriculum Info

Major or Minor in Geographic Information Science
Courses being offered in the Fall 2021 semester which count towards the GISc major and minor include:
Recent Graduate Student Publications
BenBella, Diane  & Ghosh, D. 2021. Combining Geospatial Analysis with HIV Care Continuum to Identify Differential HIV/AIDS Treatment Indicators in Uganda.  The Professional Geographer.
Barocci, Antonio.  2020. Political arrests of women under fascism: gender and the special tribunal in Italy 1926–1928. GeoJournal.
Adams, Aaron., Li, W., Zhang, C., & Chen, X.  2020. The disguised pandemic: the importance of data normalization in COVID-19 web mapping. Public Health.
Terbeck, Fabian. 2020. Defining Suburbs: An Evaluation and Comparison of Four Methods. The Professional Geographer.
Outstanding Alumni
Conner Dickes, class of 2018, is a Planner/GIS Analyst at Milone & MacBroom.
Caroline Mazo, class of 2018, is a Physical Scientist at the US Geological Survey.
Tara Schwenzfeier, class of 2018, is a GIS Analyst at ForeFlight, a Boeing company.
Nick Lacafta, class of 2016, is a Technical Records Coordinator at the University of Connecticut.
Stefanie Walker, MA class of 2015, is a Senior Catastrophe Risk Consultant at Travelers Insurance.
Amy DellaGuistina, class of 2014, is an Environment, Health, Safety & Sustainability Senior Associate at Amgen.
Keep in touch with UConn Geography!
UConn Geography Alumni Award Recipients
2021:  Patrick Heidkamp, MA '03, PhD '07, Professor, Southern CT State University.
2019:  Todd Dumais, BA '03, Town Planner, City of West Hartford.
2018:  Richard Annitto, BA '85, Vice President, GIS and Survey Division, LiRo Group
2017:  Ben Spaulding, PhD '10,  Catastrophe Risk Manager, Homesite Group
2016:  Patrice Carson, BA '82, Consulting Director of Community Development, Town of Bolton
2015:   Tyler Kleykamp, BA '00, Chief Data Officer, Connecticut State Office of Policy and Management